FBS is one of the leading global forex brokers offering Forex and CFD trading for private clients, as well as institutional investors. It was established in 2009, functioning in over 190 countries for over 12 years and rapidly gaining an excellent reputation, especially across Asian countries. Read our in-depth FBS Review before trading.
The broker is regulated under the ASIC, CySEC, FSC, and FSCA, which makes it a trustworthy broker for traders under its company name- FBS Markets Inc. It provides services to around 17 million traders and is not only a reputed online forex broker but also famous for its CFD trading.
Most of its tradeable instruments are commission-free, and offered leverage is up to 1:3000 in some cases. If you are interested in opening an account with this broker, the following section is for you, where we will discuss the broker in a way that will help you choose it by spending less time.
FBS Review Summary
FBS, which runs under FBS Markets Inc., is a renowned broker and is reputed in most Asian countries. The broker is regulated by various jurisdictions such as ASIC, CySEC, FSC, and FSCA, ensuring its service standard.
FBS Markets Inc offered a cent account suitable for novices with a base deposit of $10 and $100 for the standard account. The offered maximum leverage is up to 1:1000 on around 120 tradeable instruments. MT4 and MT5 are available besides their proprietary platform FBSTrader.
Multilingual customer care support 24/7 via phone, live chats, email, and social media. The services may moderately vary depending on your jurisdiction area.
What Is FBS?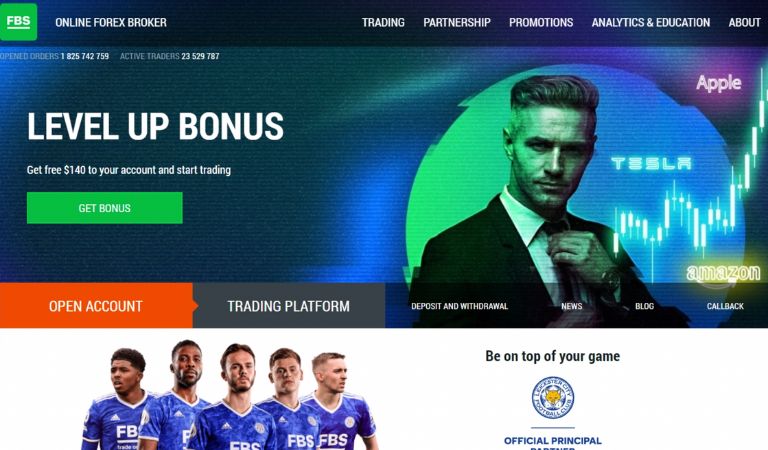 FBS is a global broker established in 2009 in Belize, excellently serving customers from 150 countries within a decade, and has secured many prestigious awards.
It provides many advanced technologies on the forex market as well. As a result, FBS appeared as a global broker in Cyprus and opened the door to diversifying its services throughout Europe.
The regulatory standards specified by the European jurisprudence, functional tools, and legitimized service have added a massive potentiality to the broker.
The brand name FBS is represented in the EU by Tradestone Limited, under CySec regulation no 331/17.
FBS Pros And Cons
FBS offers many advantages to their clients, such as lower deposit and commission fees and leverages up to 1:3000. Other Pros and Cons are mentioned below:
| | |
| --- | --- |
| Pros | Cons |
| ● Regulations from top regulatory bodies. | ● the broker is not open to clients based in the US, Japan, Canada, and Israel |
| ● It provides bonuses and promos to clients. | ● Not possible to trade in the cTrader platform. |
| ● Novices can learn trading-related things from their educational materials. | |
| ● The 24X7 accessible customer support will also help with any queries and further services. | |
Our Overall FBS Rating
FBS provides negative balance protection under its company's customer agreement, making it suitable for all traders. Besides, the broker is reputed for its various trading instruments, from forex to cryptocurrencies.
The lower base deposit makes it the best fit for every level of traders functioning on smartphones and personal computers. In terms of trading platforms and accessibility, this platform is convenient.
Based on our findings, we marked this broker 9 out of 10 based on its availability of assets, trading platforms, and trading environment.
FBS Trading Fees
With a few types of accounts, traders have two options of spread starting from 1 pip and tight spread.
Generally, the spread for the standard account is 0.9, and for the cent account, it is 3 pips over EUR/USD pair. Therefore, trading with narrow spreads can help minimize trading costs.
Stock Ind Stock Index CFD Fees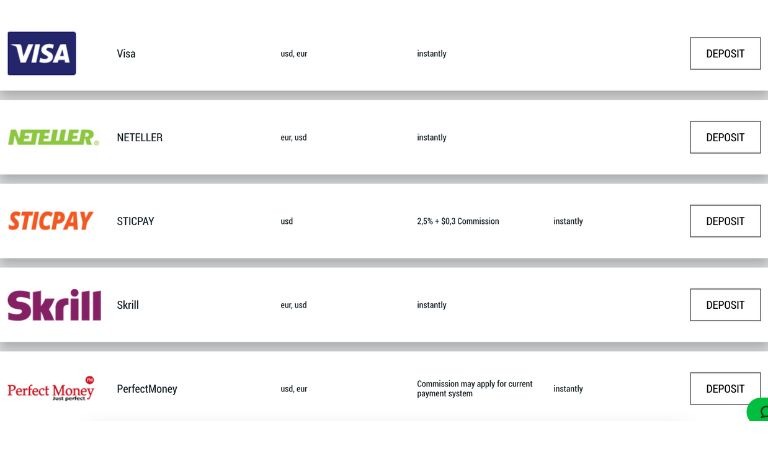 Although the standard spread is like 3 pips, FBS charges significantly lower spreads for stock and CFDs trading, and the bid-ask price difference is lower to 1 pip.
Besides, for the CFD trade, FBS offered a competitive spread of a minimum of 2 pips and can go up to 25 pips, and t is the worldwide fixed fee for trading CFDs.
Forex Fees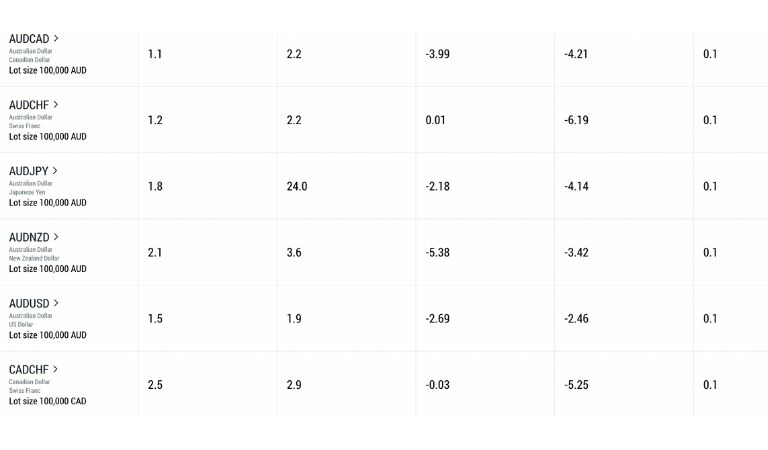 Spread for forex pairs depend on two things, the first is which type of account traders are using, and the other is the country they're trading from.
A standard account has floating spreads starting from 0.5 pips when trading from countries out of Europe. Conversely, the Zero Spread account is fixed for 0 spreads.
Non-Trading Fees
FBS does not charge anything but several non-trading fees you must pay for deposits and withdrawals. If you deposit by GlobePay, charge 1.5%, and Stic Pay 2.5%+0.3 USD commissions for deposits and withdrawal fees.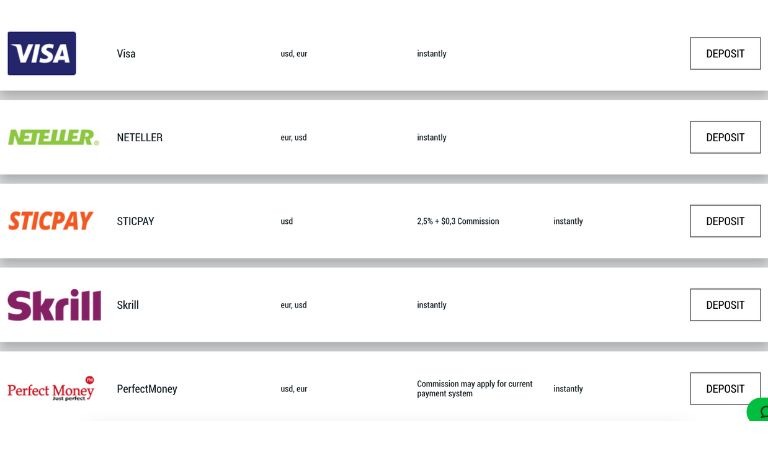 Usually, Europe-based clients are free from paying these charges. FBS may rightfully impose a 5% commission besides withdrawal fees if traders withdraw money before trading. There are no inactivity fees for international accounts.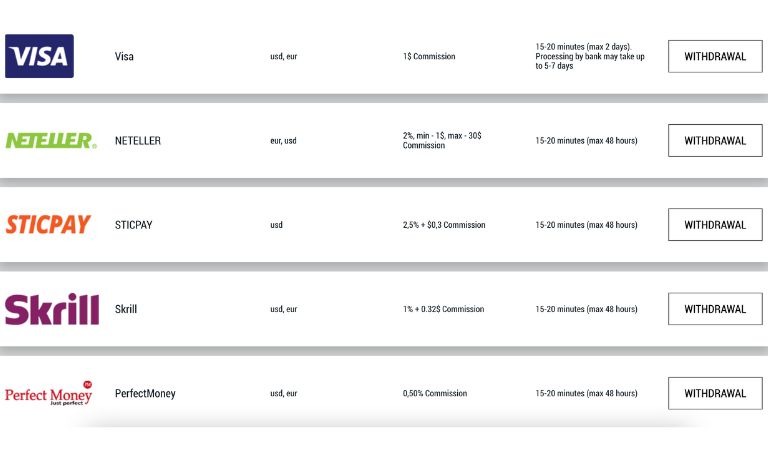 Besides, FBS accounts will be automatically disabled if they remain inactive for 90 days which can be enabled by simple contact.
But EU-based traders will be charged €10 per year in case of inactivity for more than 180 days.
Trading Hours
FBS platform displays the default time setting of EET (Eastern European Time); hence the traders of these areas are the most active in the sessions. The most number of traders will be available in the market if the sessions match.
However, in the summer, it is GMT+3, meaning EET is 3 hours ahead of Greenwich Mean Time, whereas, in the winter, it becomes GMT+2.
Trading hours based on EET time are mentioned below:
Session                                                Opening Hours (EET Time)
Pacific (Sydney)                                    00:00 to 09:00
Asian (Tokyo)                                        02:00 to 11:00
European (London)                             10:00 to 19:00
The US (New York)                               15:00 to 00:00
Customer Support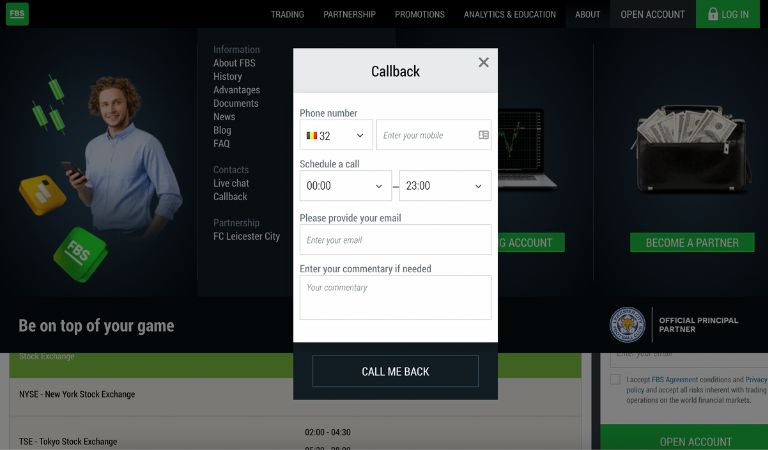 FBS platform offers customer support accessible 24×7 via live chat and telephone and email support at fbs.com. Clients have to request a callback by inputting the client's contact number in the form at FBSTrader to get the support team directly on the phone.
Clients can also get help via email at fbs.com. Besides, during trading sessions, VPS service support at fbs.com is available.
The FBSTrader platform has the option 'help center' for faster reach out to the support team.
Trader Safety
In terms of providing safety for trader's funds, FBS gives negative balance protection. If the account arrives in the obligatory position, it gets under negative balance protection. The added compensation frees the account to zero and ECN accounts.
It implies that after closing all the orders, when the account shows a negative balance, FBS instantly restores the account balance to 0 by adding up the amount needed.
If the international forex broker finds anything happened that the client was willingly creating such circumstances, then the broker will rightfully claim payment for the debt from the client.
FBS Verdict
FBS has secured numerous verdicts as a global broker. The verdicts include Best Safety of Client Funds Asia 2015, Best FX IB Program Most Transparent Forex Broker 2018, Best Forex Broker Asia 2018, and Best FX broker Europe 2019.
It does not stop here; in the year 2020, FBS won as Best Social Trading Application and Most Reliable Forex Broker from MENA. It also has the award of Best Mobile Trading Platform Asia 2020.
FBS is a global broker offering lower initial deposits and a variety of trading accounts along with MT4 and MT5 incorporation. Also, it has the proprietary FBS Trader app. With the offered competitive spreads, novice and master traders will be comfortable trading with FBS.
Accepted Countries
Traders from any country in the world are accepted to get services from FBS, but there is a different scenario for traders based in the USA, Brazil, Belize, Japan, and Thailand.
Traders from these five countries can not be able to have FBS services due to the regulatory grounds of those countries.
Alternatives To FBS
Switch Markets is an Australian broker where investors can start trading with a minimum deposit of $50. Investors can trade under the ASIC regulation, where the trading spread starts from 0.0 pip.
Exness is recommended as an alternative to FBS. Exness offers lower fees with zero minimum deposit.
Also, Exness is regulated by most regulatory boards such as FCA, the international financial services commission (IFSC), CySEC, and ASIC, making it the best alternative to the FBS for traders worldwide.
XM is another FBS alternative for traders who prefer Meta Trader platforms MT4 and MT5. ASIC, CySEC, and FSC regulate it. It offers a base deposit of $5 with low spreads and commission fees. The broker provides negative balance protection to their clients, resembling FBS.
Pepperstone offers trading with an initial deposit of 200 AUD. The leverage is available for up to 500:1 along with the attractive spreads that start from 0 pips. This broker is regulated by ASIC and FCA, besides having a well-organized support team available 24/7. 
AvaTrade is a famous broker with a sustained position in seven continents across Europe, the UK, South Africa, Japan, UAE, and Australia. This broker has CBI. It offers trading in 44 forex pairs with a maximum leverage of 400:1.
eToro is FCA, CySEC, MiFID, and ASIC-regulated broker that also matches the FBS alternative. It offers a base deposit of $10 and is suitable for traders looking for zero-commission stock trading.
eToro is a multi-asset platform like FBS that provides forex, stocks, CFDs, and crypto assets similar to FBS.
FBS vs. Other Brokers
Many brokers are available in the financial markets, all of which have pros and cons. All of them have some similarities and dissimilarities.
However, Exness is suggested as the FBS alternative as some features match each other. So, here is a small illustration of FBS vs. Exness similarities and dissimilarities to each other.
FBS is a global CFD broker offering forex assets, and Exness is a worldwide broker for both forex and CFD. Both brokers have the authorization of Cyprus securities and exchange (CySEC) or ASIC.
Traders looking for MT4 & MT5 trading with a wide range of instruments are preferred FBS; besides, Exness offers a minimum deposit lower than FBS, attracting all types of traders. Exness even offers 1000+ markets at low spreads.
Exness also provides free VPN services to their clients, and FBS gives them a welcome bonus of $100. Both of the brokers provide demo accounts.
FBS offered trading instruments: Forex, CFDs, indices, shares, and commodities with a minimum trade of 0.01 lots. In contrast, Exness offers Forex CFDs, Commodities CFDs, Equity Indices CFDs, Precious Metals CFDs, and Energies CFDs with a minimum trade of 0.01 Micro lots.
However, the account opening process, trading platforms, and service fees of the preferred forex company- FBS and Exness are similar, but Exness wins for the deposit and withdrawal processes keeping uncomplicated; conversely, FBS gets the point for the quality client support services.
Where Is FBS Regulated?
FBS is divided into three structures to manage every market correctly. FBS is based in Belize; with the authorization of IFSC and FSCA, the regulations open the opportunity for most world countries.
On the other hand, FBS has a regulation from CySEC that permits it to operate in Europe and UK. Also, to get the CySEC authorization, FBS had covered the ICF scheme to provide the traders.
Finally, FBS has the ASIC authorization to offer the service in Aussie countries through Intelligent Financial Markets Pty Ltd. All of these compliance regulations assure FBS is an accepted global broker.
Is FBS A Good Broker?
FBS stands with many regulatory bodies making it a good broker. Also, they offer lower fees and higher deposit methods while allowing any trading strategy. Their client support is also good, although their a complicated deposit and withdrawal process.
Does FBS Offer Any Bonuses?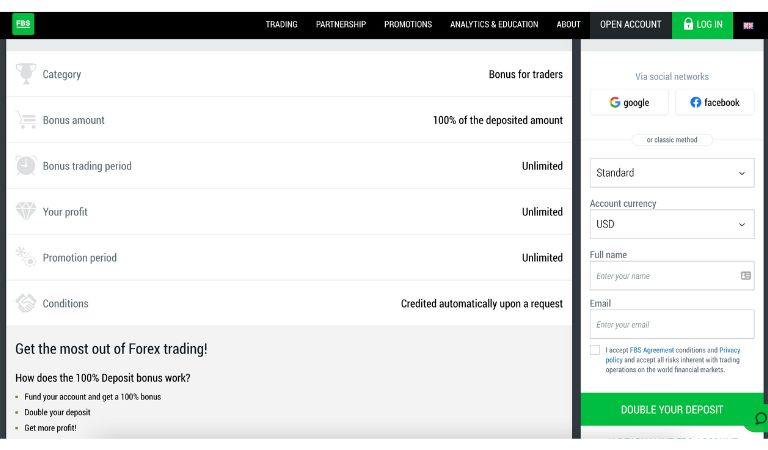 Yes, with FBS, traders can get bonuses and even cashback. Regarding expediting the new clients' funds, FBS provides a 100% deposit bonus. The bonus will be activated within 30 days, only via depositing.
This bonus is given over every new is opened. On the other hand, contests and promotions also come with advantages.
Features of FBS
FBS featured the availability of a regulator and good liquidity. It also uses 5 points after the decimal points for the quotes and has good conditions for trading.
The broker gives two kinds of real accounts; the demo accounts it has two options. The offered spreads are remarkably low, starting from 1 pip. FBS-provided financial instruments are forex, CFDs, and metals with a significantly less initial deposit and leverage of 1:3000.
It provides a hedge to minimize the risk of trading. Novice traders may find FBS very suitable for its low rates, and the educational material helps novices better understand FBS markets.
Moreover, negative balance protection is the best feature that FBS offers as it helps traders to prevent losses. The broker also added a trading robot to provide an automated trading facility.
Trading Platforms
FBS is an STP technology-based broker that offers their proprietary FBS Trader besides the most reputed MetaTrader platforms MT4 and MT5 but not the cTrader. The platform offers various technical indicators, and traders can trade without restrictions on strategies.
It is user-friendly and accessible in multiple languages. The traders can have copy trading feature in the FBS trading platform. FBS utilizes an NDD system with STP for quick execution of orders. When the clients log in, they will have the option of market access.
MetaTrader 4
Traders can easily access MetaTrader 4 after downloading and installing it on their devices. MT4 platform comprises a good array of features such as:
Trading orders and copy trading can be executed with One-click.
Charting tools and technical indicators can oversee trading conditions.
Automated trading and automated copy trading are available.
Expert Advisors (EAs) are easily accessible.
Investment orders and trade can be executed rapidly via MT4 mobile apps.
MetaTrader 4 MultiTerminal is allowed for the FBS so that clients can simultaneously run several live trading accounts.
MetaTrader 5
FBS has integrated MetaTrader 5 platform so that FBS clients can diversify their portfolios. MT5 is MT4's upgraded version, and the platform comprises a good range of features such as:
Netting and hedging are accessible on the FBS site.
Anticipates reliable trading conditions out of risk by cutting-edge technical tools and indicators.
For copy trading, a wide range of various order varieties and timeframes is available.
Both the MetaTrader platforms are readily available on the FBS site, meaning clients may have direct access and are not required to download and install.
Financial Markets
FBS offers various trading asset classes in various financial markets. They have 28 standard forex pairs with 16 exotic pairs on their offer. In the global stock market, FBS has 40 US, 30 UK, and 30 German company shares, along with a long list of cash-based indexes, even the NASDAQ.
Clients who prefer to trade metals and energies can get four types of precious metals with WTI and Brent crude oil. Besides, FBS also has a cryptocurrency market on offer that can be traded through the FBS Trader app and the web-based in the personal area. They provide 35 pairs of cryptos for direct trading.
Trading Fees
The trading fees may vary depending on the client's area and FBS account type. Spread is fixed on 3.0 pips micro account, ECN account, and Zero account is competitive with 0.0 pips, which is 1.1 pips for the standard and cent accounts.
Let's see the list of available spread in FBS:
Floating spread- starts from 0.2 pip
Fixed spread- starts from 3.0 pip
No spread- fixed spread at 0 pips
For ECN and Zero accounts, a fixed commission of USD 6 and USD 20, respectively, per lot is charged by the FBS international offices. Also, for CFD trading, the charge is USD 25, and for trading stocks and shares, it is USD 3.
Besides, a nominal commission fee of 0.05% applies to digital currencies' opening and closing positions in the cryptocurrency markets.
Trading Bonuses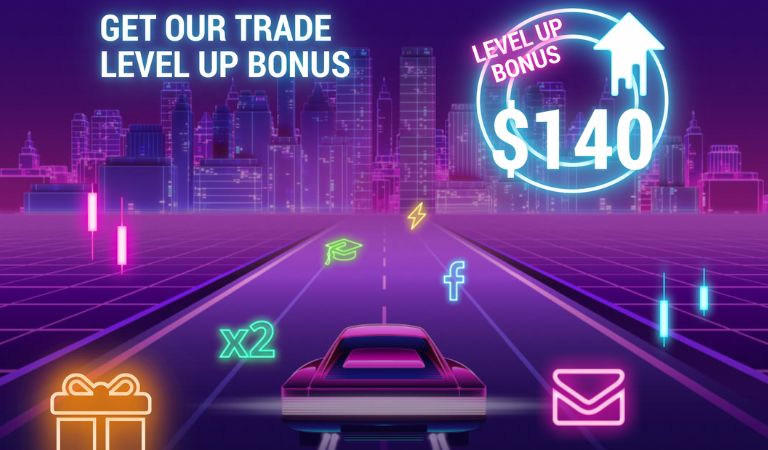 FBS-registered clients are provided with captivating bonuses. They offer a 'Level Up' bonus on forex trading account opening, by which clients will get $70. The level-up bonus is possible to increase further by up to $140.
FBS clients must utilize the Personal Area app to gain an increased bonus. Before claiming the offer client must read the bonus account settings, claim description, terms, and conditions thoroughly.
Moreover, FBS also operates a loyalty program. Clients are allowed to choose from rewards and benefits. The rewards comprise cash prizes and various gadgets. New and advanced traders must only sign up for the loyalty scheme in their FBS account area and continue trading.
Trading Accounts
The newly registered clients of the FBS can choose from several account type options. Europe-based users are provided with the cent accounts and standard accounts.
FBS clients in other countries are provided with ECN accounts, Zero Spread, and Micro accounts.
For all types of accounts, trading volume will remain the same. STP-utilized accounts have trading limits, and clients using ECN accounts are not counted under this condition.
To gain upgraded features, traders must upgrade their initial deposits to upgrade their account tier.
It will also allow the clients to access competitive trading requirements. Furthermore, FBS offers Islamic accounts for crypto market trading.
Demo Account
A demo account is offered in their proprietary platform, FBS Trader, along with MT4 and MT5 incorporation, to offer the traders various levels. The demo account is accessible in the cent account and standard account for Europe.
MT4 and MT5 feature a great extent of the instruments provided so that traders can practice trading with zero deposit criteria. After gaining enough knowledge on real-time accounts, traders can comfortably shift to live accounts.
Payment Systems 
The base deposit differs for each account type and user's based country. For the EU, FBS demands a minimum deposit of €10 and €100 for the cent and Standard accounts.
Besides, in countries outside the EU, FBS requires initial deposits of $1, $5, $100, $500, and $1000, respectively, for the cent, micro, standard, zero-spread, and ECN accounts.
When it comes to the methods for deposit and withdrawal fees, FBS allows wire transfers only for EU-based clients. Clients other than the EU will have the methods like Visa, and electronic payment systems, such as Skrill and Neteller.
However, deposits are made quickly via wire transfer, but withdrawals may take up to 48 hours, which is not happening for clients.
Also, global firms of FBS will charge commission fees and may request the identifying documents as well regarding the withdrawals.
Mobile Apps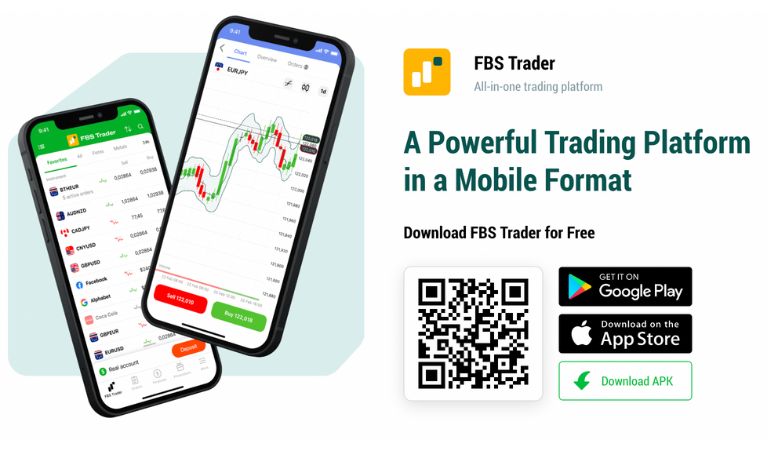 FBS has a platform rich with features. The app's interface is intuitive and flawless, providing access to top trading tools and real-time updates resulting in a reliable trading environment for the users.
The trading platform is also available on mobile devices via the FBS trader app. Clients can easily access the platform via the FBS trader app on smartphones, tablets, and laptops. The mobile app is available for download from Android, Windows, and Apple app stores.
The mobile is suitable for copy trade with all the operating systems. Outsiders clients from Europe can access the mobile app via iOS devices only.
Licensing And Regulatory Requirements
FBS is a legitimate global broker authorized by reputed regulatory bodies. Various authorities regulate it for functioning in various countries worldwide.
The CySEC governs the FBS trading platform as the company is licensed under Cyprus Securities and Exchange Commission (CySEC) and provides excellent trading conditions to the clients.
Besides, the IFSC supervises the global branches of FBS. To operate in South Africa, FBS has gained the financial sector conduct authority (FSCA) supervision, and the ASIC regulates the global offices in Australia.
However, traders from the USA cannot get FBS services.
Extra Features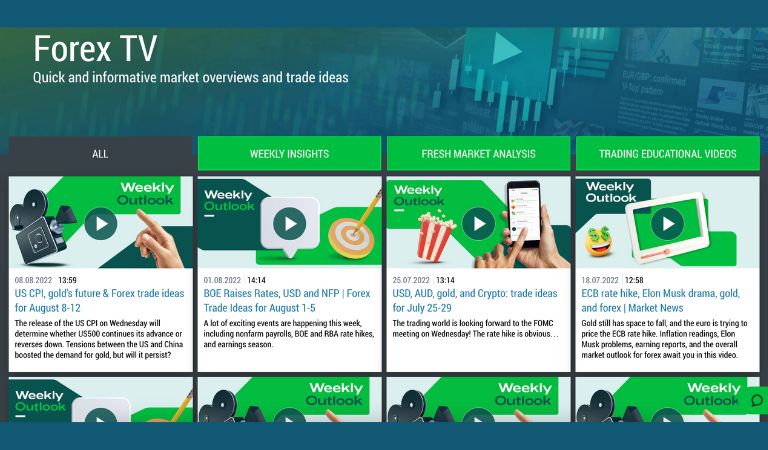 FBS offers an analysis section where traders may get various resources such as news updates on the forex market. The broker further provides a Forex TV feature telecasting the weekly insights of markets, videos with trading information, plans, and strategies on trading.
Apart from the analysis sections, the FBS broker also offers forex calculators and an economic calendar easily accessible via a mobile app.
Also, they provide all-inclusive educational content as tutorials, training materials, e-books, webinars, and mentoring sessions.
Services Offered By FBS
FBS is a global broker that provides a trouble-free trading process for the forex, indices, shares, energy commodities, stocks, precious metals, and cryptocurrencies.
Clients are offered access to various tools and advanced technologies in trading that comprise technical indicators, trading calculators, technical indicators, and so on for a better trading experience.
Apart from that, they offer exclusively resourceful educational content and tutorials suitable for novice traders to improve their trading potential.
FBS Products
Registered traders can diversify their trading portfolio by trading a range of asset classes from FBS offers. To trade forex, traders offer minimum spreads varying between 0.3 and 26.
The broker allows professional traders to trade gold and silver for USD currency, and the lot sizes are fixed at 100 and 5000, respectively, for gold and silver.
In this case, the spread typically lies within a minimum of 10 to 30. Also, indices are available, with the spreads differing between 14 and 1800.
Energy Commodities
The traders who prefer trading in energy commodities can get spread lies within 8 and 14 along with the lot size at 10,000, in exchange for USD.
Exotic Forex
Exotic forex can be traded with a minimum spread differing from 5 to 44.1, with a standard lot size of 100,000. A swap-free option trading facility is not accessible for exotic forex currencies.
Types of FBS Broker Accounts
FBS broker offers to open various account types based on traders' local area and budget. The FBS broker offered accounts containing various features, as mentioned below:-
The standard account is the type most master traders prefer to raise more profits. The advantages of the standard account are competitive spread, commission-free, leveraged up to 1:3000; all the trading instruments are comprised along with captivating bonuses. This account can open on the MetaTrader platforms with a free demo account.
Other information regarding the standard account:
Initial deposit- $100

Spread- floating, starts from 0.5 pip

Commission- No

Leverage- Up to 1:3000

Maximum open position and pending orders- 200

Execution type: Market execution from 0.3 second
Cent account can be the best fit for novice traders as the account demands only USD 1 as a base deposit that will allow traders to execute low-risk trade. Copy trading feature is accessible for cent accounts, and the balance will show in cents. Leverage is offered up to 1:1000 to trade all the asset classes under the cent account.
Other information regarding the cent account:
Initial deposit- $1

Spread- floating, starts from 1 pip

Commission- No

Leverage- Up to 1:1000

Maximum open position and pending orders- 200

Execution type: Market execution from 0.3 second
Traders looking to track their daily profits can use the micro account type. Profit evaluation will be more straightforward using the advanced Trader's calculators and tools. The base deposit is needed of only USD 5 with the spread of 3 pips and leverages up to 3000:1.
Copy trading feature,100% Deposit fees bonus, and level-up bonus are available. The traders can get exciting bonus deals and promos, including cashback.
The Zero Spread Account is a spread-free FBS account suitable for high-speed trading to raise quick profits. Traders can trade with no spread but have a USD 20 commission fee on each lot.
Copy trade, 100% deposit bonus, and level-up bonus are available with all the asset classes. Traders can precisely anticipate market revenue by trading with this type of account.
ECN account is for traders with higher capital, which requires USD 1000 for the base deposit. This is a cutting-edge and strategic approach that allows traders to direct buying and selling regardless of the broker's involvement.
The account is offered a competitive spread starting from only 1 pip and charges a commission fee of USD 6. It also allows unlimited order execution and simultaneously manages multiple open positions.
Trading with this account gives prompt access to market quotes and the fastest execution of market orders.
Other information regarding the ECN account:
Initial deposit- $1000

Spread- floating, starts from 1 pip

Commission- $6 per Lot

Leverage- Up to 1:500

Maximum open position and pending orders- No limit

Execution type: ECN
Signing up with an FBS crypto account will unlock a variety of cryptocurrencies at lower spreads. Trading Ethereum, Bitcoin, and altcoins allow a floating spread of 1 pip and fixed leverage of 1:5.
Other information regarding the Crypto account:
Initial deposit- $1

Spread- floating, starts from 1 pip

Commission- 0.05% for opening and 0.05% for closing positions

Leverage- Up to 1:5

Maximum open position and pending orders- 200

Execution type: STP execution from 0.3 second
FBS Tools
Clients can access various tools and technologies provided by FBS to expedite their trading experience. Different specialized tools are available along with access to the markets' fundamental and technical analysis data, such as:
Economic Calendar
An economic calendar or the forex calendar helps to run the market event-based fundamental and technical analyses of the forex markets and the forex pairs.
The calendar allows viewing market-impacting macroeconomic events. Traders get real-time updates on asset prices influencing events in the economic calendar.
Currency Converter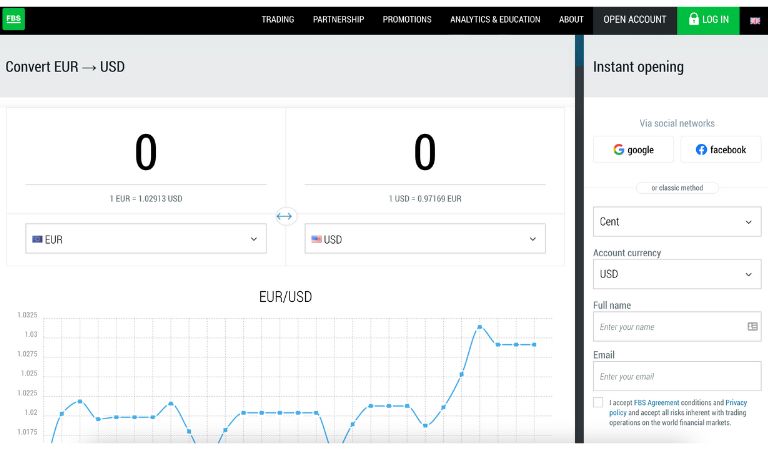 The Currency Convertor helps to evaluate foreign exchange rates. Traders use the feature to check one international currency value into another and match the values for forex trading decisions.
It provides updated exchange rates eliminating the broker's involvement. Also, it accumulates the exchange rate history over the past month so traders can keep tracking the price patterns.
Forex Calculators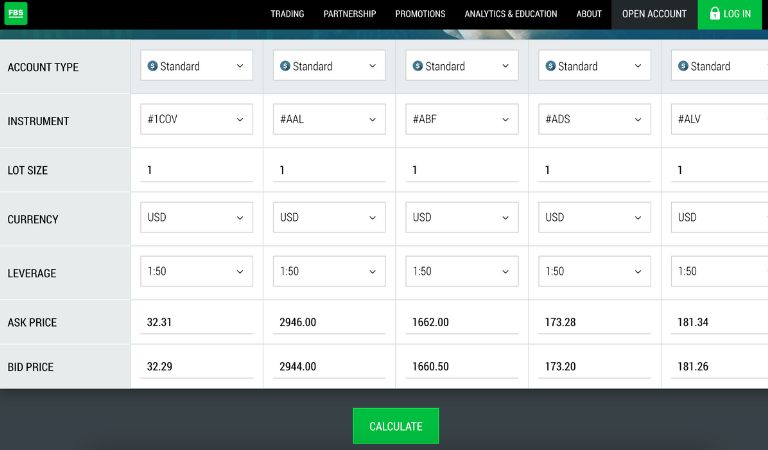 The Forex Calculator or Trader's Calculator is used for measuring the potential profitability of a forex trading decision. The tool provides a rapid and well-timed forex trading decision. It is also utilized for managing irregular conditions in the forex market before a trading position is opened.
To get the valuation for trading forex, FBS clients have to set the account type, trading instrument, lot size, major currency pairs to be traded, leverage rate, ask price, and bid price.
Broker FBS Leverage
The maximum offered leverage relies on account type and the location that clients are trading from. Leverage is offered up to 1:1000 or sometimes 1:3000, and for Europe-based clients, the ratio is up to 1:30 on major currency pairs for standard and cent accounts.
Outside Europe, the maximum offered leverage is up to 1:1000, 1:500, and 1:3000, respectively, for the cent account, ECN account, and other account types. Also, FBS has a margin call of 40% and lower.
FBS Deposit & Withdrawal Options
The FBS platform allows deposit funds and withdrawals in USD or EUR currencies. FBS allows various payment options such as bank transfers, credit and debit cards, e-wallets, and exchanges.
Making deposits in EUR USD via wire transfer VISA, Neteller, Sticpay, Skrill, Perfect Money, and Local exchanges is allowed.
A bank transfer or using bank cards or e-wallets is allowed in terms of withdrawing funds. Bank transfer withdrawal takes 7-10 days and 3-4 days for credit or debit cards. Besides, e-wallets such as Neteller and Skrill give the quickest withdrawal experience in less than 30 minutes.
FBS Bonuses & Promotions
The registered clients of the FBS are provided with various captivating bonuses and promos such as :
Cashback
FBS offers cashback bonuses on each order at every level. Also, traders are offered up to 20% spreads to profitably trade the asset classes.
Other information regarding the cashback:
Category- Bonus for trades

Bonus amount- up to $15 per lot

Bonus trading period- Unlimited

Promotion period- Unlimited

Conditions- Traders should activate it from the personal area
Quick Start Bonus Funds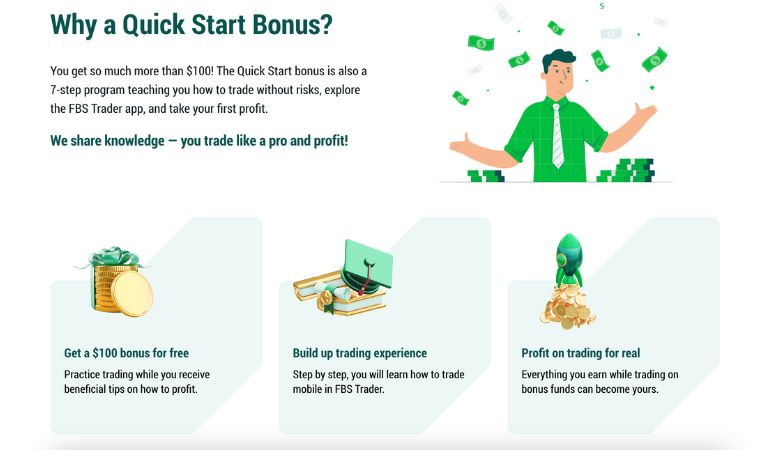 The Quick Start Bonus is a kind of seven-step teaching program for traders. Traders can execute trading using the entire bonus amount through the Standard Account, and in doing so, traders will also get a compensation bonus.
FBS Trader Parties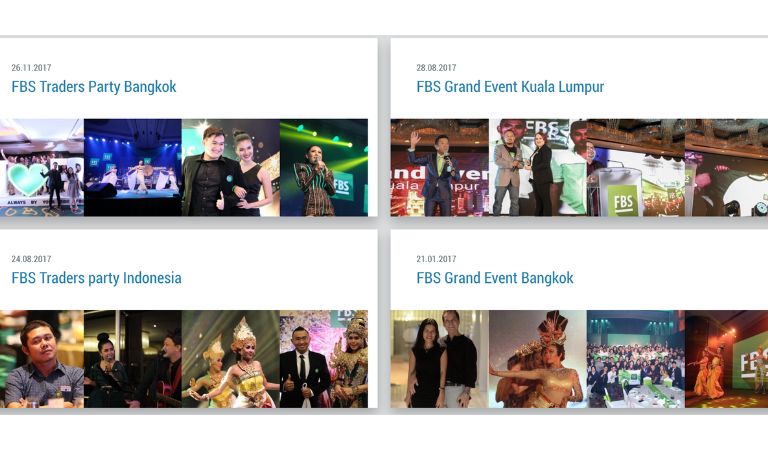 Making a base deposit of USD 100, traders may celebrate the FBS Trader Parties by executing trades in standard lots and get the chance to win grand prizes comprising iPad Pro, MacBook Pro, Super Prize, and so on.
Get A Car From FBS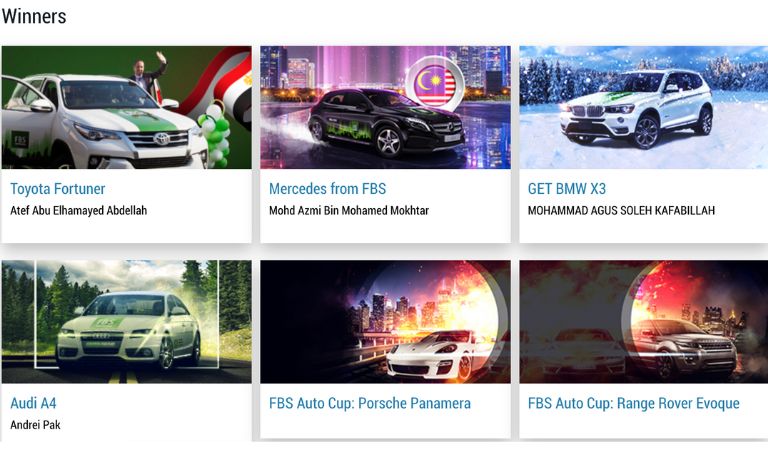 FBS offers winning luxury cars from reputed brands while the traders participate in promotional trading contests.
FBS Loyalty Program
If the traders regularly execute trading and actively run the account, then FBS will honor the grand Loyalty Program. Traders will win the loyal trader's title, cashback, deposit bonuses, and other benefits.
Resources Offered by FBS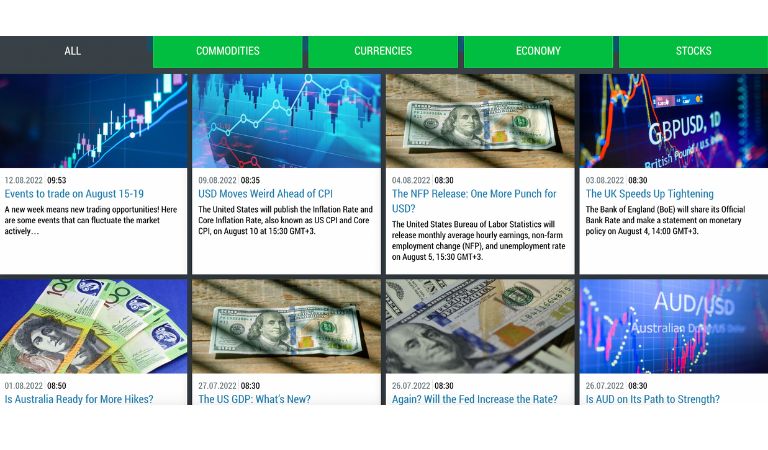 FBS clients are offered resources such as an Economic calendar, forex calculator, trade currency convertor, and liquidity provider's trade signals. Cutting-edged charting tools and complex instruments for technical analysis are also accessible.
Besides, exclusive educational content, including webinars, videos, tips seminars, Forex news, daily market analysis, and weekly insights, is also available.
FBS Affiliate Program
The FBS members may participate in the Referral Program by inviting more users to the platform through link sharing and gaining a reward of USD 15 in their account. For each member who joined via invitation, the process will complete if their friends sign up with the platform and make at least three investments in the medium in different trades.
Meeting this condition will allow you to receive a bonus. The invited client will also gain USD 5 on the investment made through the Cyprus investment firm.
FBS App
FBS offers the FBS mobile trading platform with a downloadable to install on mobile devices. It allows traders to access broker forex guidebooks, professional advice on reliable status, personal data, business statistics, etc.
It also allows new data centers, mobile alerts for trading progress in the market, multiple swap-free accounts, and a user dashboard allowing real-time performance analysis via the go-through mobile trading.
FBS Security Measures
The FBS regulatory compliance ensures the highest security for the traders to keep them away from any fraudulent activity. Traders must submit KYC documents for registration and follow AML guidelines to stay protected from financial scams.
FBS maintains rigid confidentiality of the user's personal info via 2FA authentication. It also keeps the accounts segregated to protect clients' money from disputes.
FBS Customer Support
FBS customer support is available 24×7 over live chat and telephone. The customer support team is accessible on request by entering the contact number in the form at the proprietary trading platform.
Also, email and VPS service support are provided via fbs.com to contact the customer support team during mobile trading sessions.
Regarding clearing doubts, traders can get faster output via the 'help center' option available on the platform.
Conclusion
The FBS is a suitable broker that offers plenty of asset classes to trade. It provides most financial market entries and executes automated trades to gain rich profits. High leverage and margins, mobile trading app, exclusive educational resources, and curated various trading types for every level of traders stand the broker out in the industry.
Nonetheless, still, FBS has to make some improvements by introducing more trading instruments. Eliminating the geo-blocking restrictions will expedite its acceptability among global traders.
Frequently Asked Questions:
Is FBS Regulated?
Yes, the FBS broker is regulated by the ASIC, CySEC, FSC, and FSCA.
Is FBS Legit?
FBS offers a legit trading experience via rigid supervision of the regulatory restrictions of the International Financial Services Commission (IFSC), Belize, and caters to traders throughout the world.
Is FBS A Trusted Broker?
Yes, FBS is a trusted broker that works to operate through a trustworthy and indisputable broker's team.
How Long Does It Take To Withdraw From FBS?
In terms of withdrawing the funds, a bank transfer takes 7-10 days, whereas 3-4 days for credit or debit cards. Also, e-wallets are best for quick withdrawal in less than 30 minutes.
What About The Minimum Deposit?
The minimum deposit for EU-based traders is €10 and €100 on the Cent and the Standard accounts. The minimum deposit for global traders, Cent, Micro, Standard, Zero Spread, and ECN accounts, respectively, starts from $1, $5, $100, $500, and $1000.
How To Start Your FBS Account?
First, install the FBS- Trading Broker app from the App Store or Google Play, and do registration in the app. Afterward, select the registering options, then follow the provided steps to register your account. Make sure to select the correct account type and fill in all of the necessary information before saving your account settings.
How is Their Trading App?
FBS offers MT4 and MT5 along with the FBS Trader mobile app downloadable to install on all types of mobile devices.
Is The Quality of Customer Service Satisfactory?
FBS has excellent customer service available via various channels, such as phone, email, and live chat. This ensures that traders will get the assistance they need with questions related to the broker and trading.
Legit or Scam?
FBS is legit as it supervises Cyprus Securities and Exchange Commission (CySEC), IFSC, FSCA, and ASIC.
Is FBS Broker Good for Beginners?
Exceptional web and mobile trading platforms with lower fees and minimum deposits, exclusive educational content, satisfactory customer service, and effortless account opening methods make FBS a good broker for beginners.